I was very happy to get an early start cycling from Danang to Hue just after 5am, with clear skies and no wind. Thanks to Oanh and Andrew for my early morning send off, thanks for the hat Oanh, it came in very handy.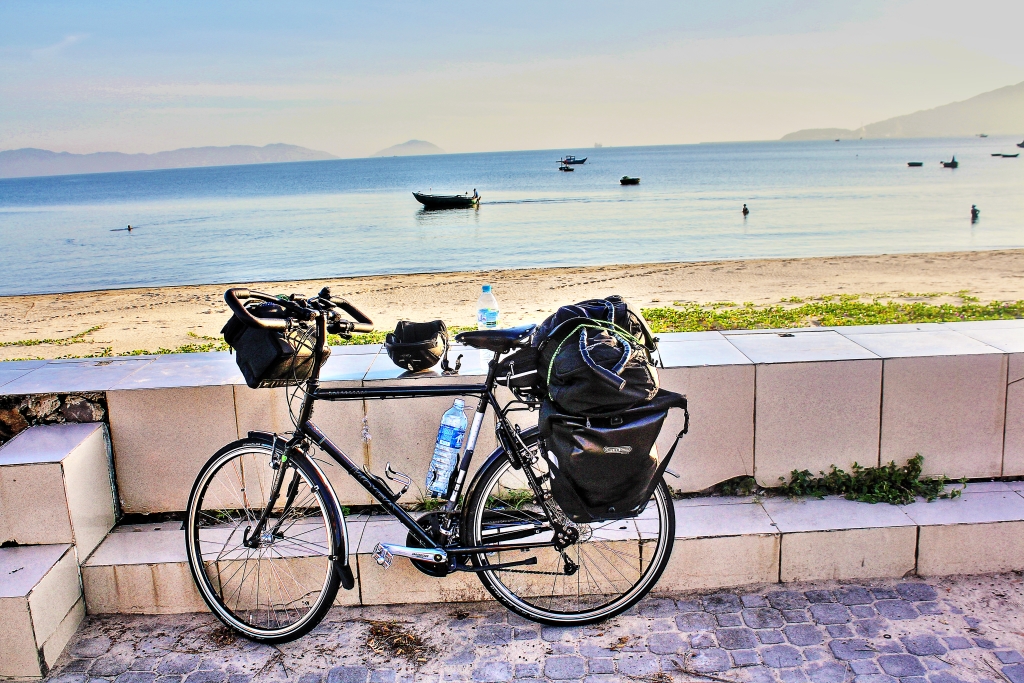 Riding around the bay was nice and uneventful, everything was strapped on well and the ride to the base of Hai Van took just over an hour. I stopped at the last cafe before the pass for a coffee and to stock up on water.
The ride up Hai Van Pass only lasted 10 minutes before I had to get off and walk, I walked for hours. The sun was out in full force and there was little shade but thankfully a few small rest stops were scattered up the mountain.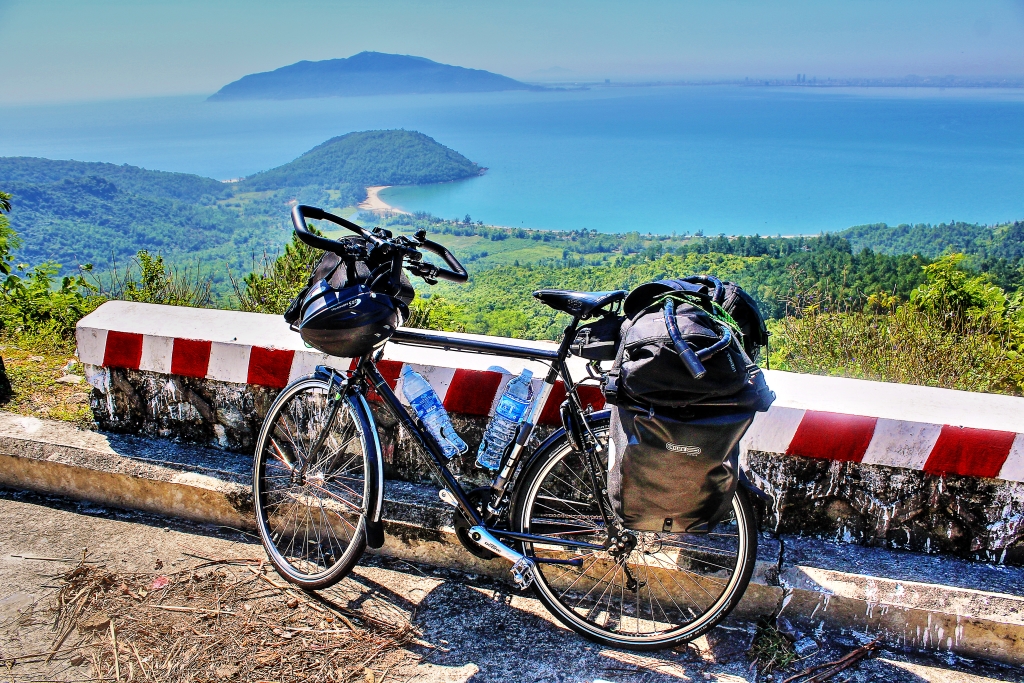 After a few hours trudging up the mountain and feeling shattered, 2 cyclists coming down stopped for a chat and gave the morale boost I needed. Ellie and Julia are cycling through Vietnam, Cambodia, Laos and Northern Thailand, I may run into them again, check out their blog at TheCuriousVehicle.tumblr.com. It was good to know I was not the only crazy fool pushing a bike up a mountain in 36 degree heat.
I reached the peak of Hai Van Pass just after 11am, the hottest time of day, and I was dead on my feet. A mixed feeling of jubilation and frustration, I had made it but it was one of the most physically draining things I have ever done, perhaps I should have taken the tunnel.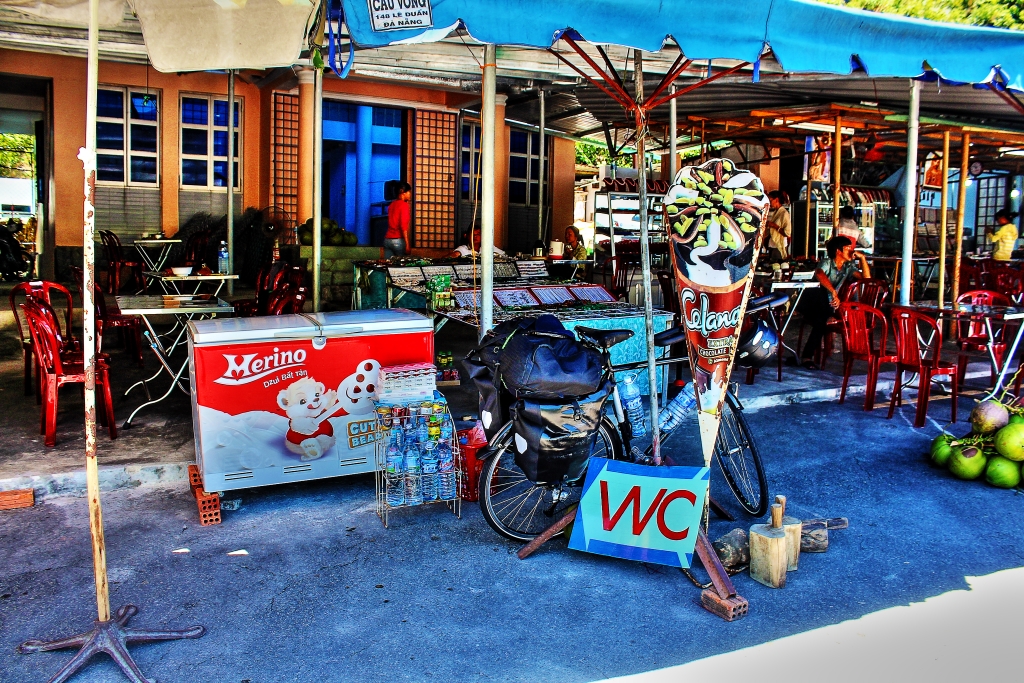 I rested at the top for an hour, ate lunch, re-hydrated and joked with sellers that hassle tourists going betweeen Danang and Hue. I was a bit nervous about the descent, a loaded bike doesn't handle well at speed.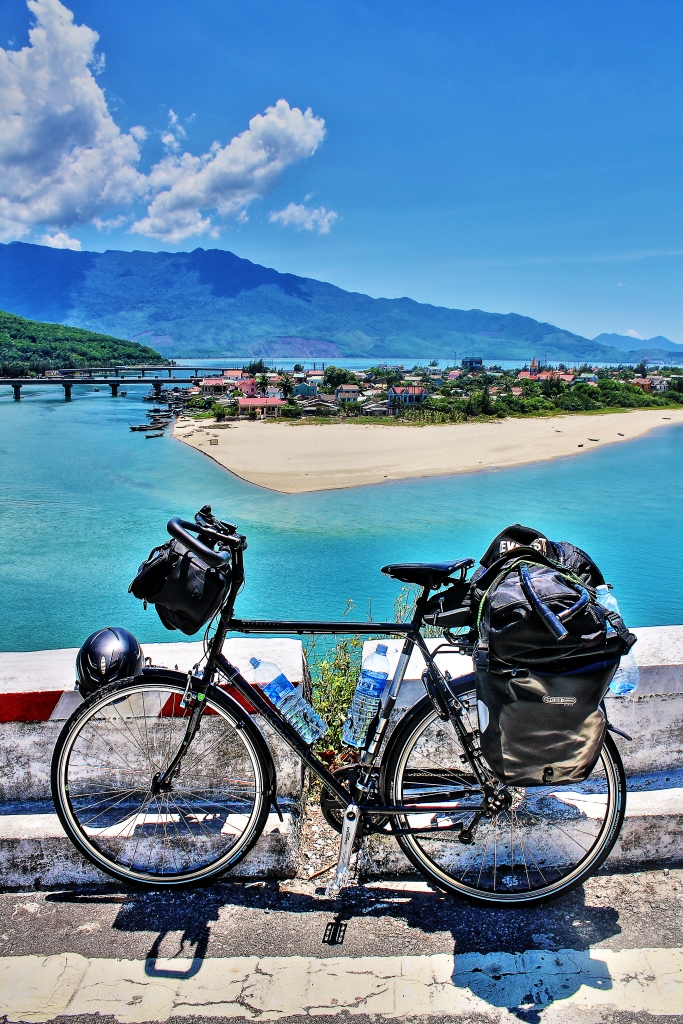 The ride down was awesome, the bike was steady, I only managed a top speed of 43kms per hour due to my cautiousness. I enjoyed the breeze and the view, it was a great break from the scorching heat.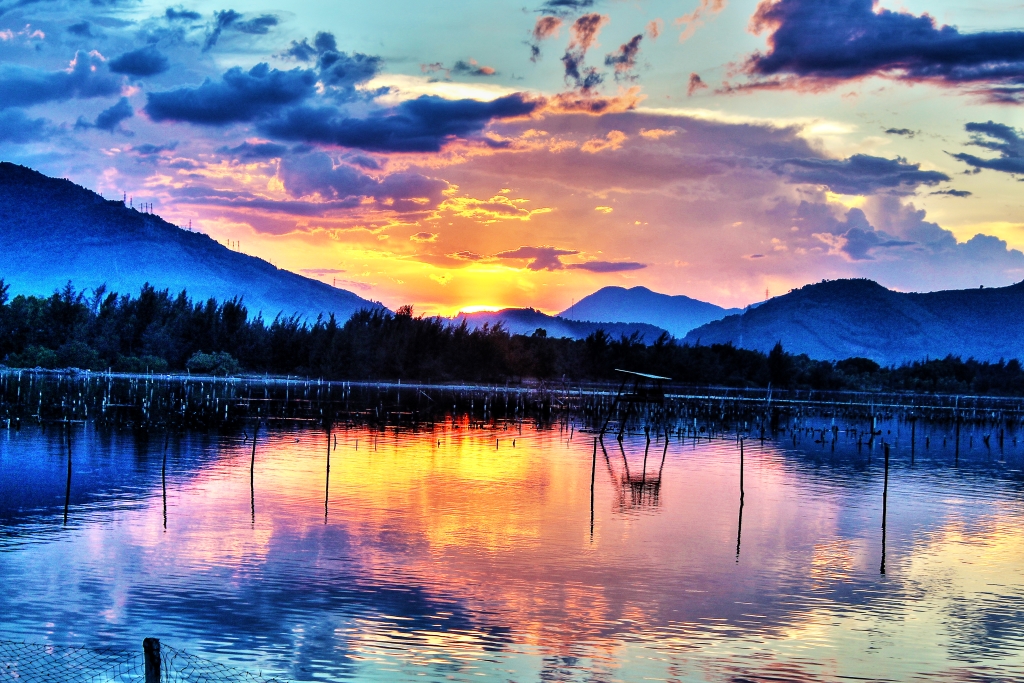 I rode into Lang Co just before 2pm, checked into a guesthouse, locked the bike up, took a shower and a nap. In the evening I walked along the lagoon and ate a seafood dinner while watching the sunset.
Lang Co To Hue
Another early start, cleared the first of 2 smaller passes and then ate Bun Bo Hue for breakfast. After the second pass I took the turn off for the beach road to Hue, after 6 kms I somehow got lost and found myself climbing another pass.
Frustrated and not wanting to lose more kms following a bad road, I decided to back track and take the highway to Hue, knowing full well what to expect. The highway actually wasn't too bad, plenty of rest stops and the traffic was manageable.
The last 20 kms were the hottest and the hardest. I found a hotel quickly, cooled down, rested and wandered around the tourist area.
[column size="1-2″ last="0″ style="0″] [heading style="1″]DAY 01[/heading]
Distance:
47 km
Average:
12 kph
Top Speed:
43.7 kph
Time On Bike:
3 hours, 55 minutes
[/column] [column size="1-2″ last="1″ style="0″] [heading style="3″]DAY 02[/heading]
Distance:
71 km
Average:
15.4 kph
Top Speed:
42.4 kph
Time On Bike:
4 hours, 36 minutes
[/column]
Enjoy this? Get email updates for FREE!